Micah & Matt - Always NC Fresh
Matt Huth and Micah Daniels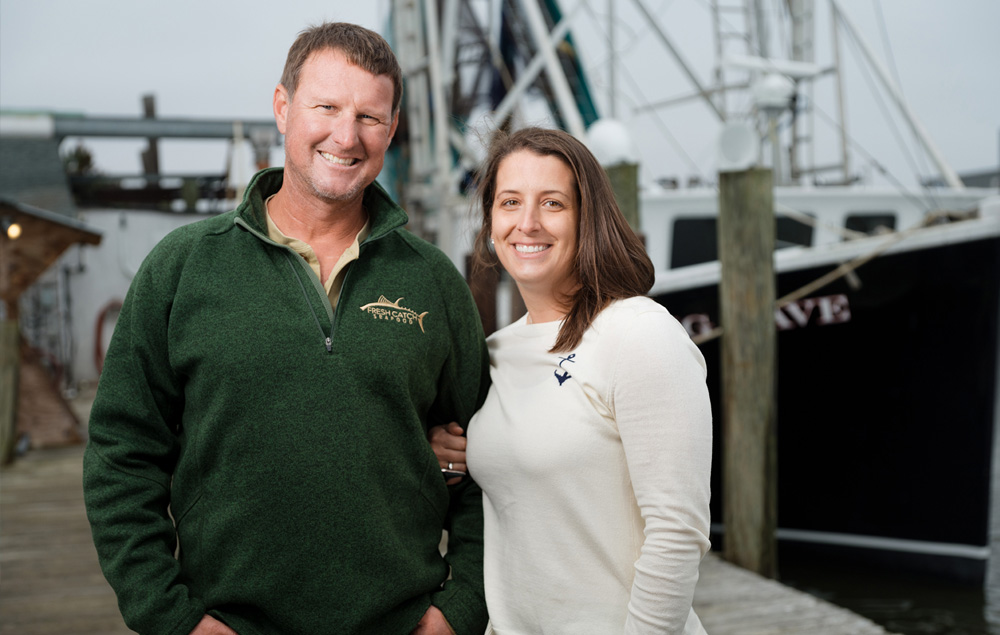 Type of fishing: I'm a lover of fishermen (including to be married to one) and I'm the fourth generation of a commercial fishing family — beginning in 1936 — but I'm not a fisherman. I am a fish mongress, and I primarily sell pelagic species (tuna, sword, and Mahi), shrimp, and head-on fish (bluefish, croaker, ribbonfish, sea mullet and flounder).
How did you get started in fishing? I grew up in the fishing industry. My great-grandfather started a fish company in 1936, and my family has been immersed in the industry ever since. When I was younger, my father took us shrimping almost every day in the summer. When I was old enough to stand on a tote and reach the table, I learned to head shrimp and did so for 5 cents per pound (today it's a quarter). When I could write legibly, I marked boxes at the fish house (my dad's family owned trawl boats and the fish house crews would pack fish for days on end). When I was in college, I learned to cull fish on the cull table. (Some of my fishing education was from discipline as my parents believed if you got in trouble, you went to work.) None of us knew my time at the fish house and on the water with my father would ignite a forever love affair with the ocean's bounty and the people who harvest it.
What is your fondest/best/proudest memory of fishing? This industry has made me strong and molded much of my character. My best memory is my dad teaching me to cull fish. I'm most proud of when my husband and I opened a fish company, and fishermen entrusted me to sell their catches. Women are underrepresented in our industry so the ability to be a fish mongress, selling fresh seafood and representing the grit of women, makes me proud.
What is your favorite thing about the fishing community? Faith, grit, and perseverance. The fishing community is faith-based — we know who fills the sea with its bounty and watches over our people as they work on the water. I firmly believe fishermen's willingness to give and support one another comes from their faith in the Lord. Fishermen are a family unit. They have a code at sea to take care of one another; vessel trouble at sea is very different than having a flat tire on the highway. I continue to be moved each time I see a fisherman sacrifice a catch or best price to help a fellow fisherman in need displaying their value of their fellow man. Families of fishermen, especially wives and mothers, have grit as well. Often fishermen wives are "single moms" as the fathers of their children are gone for days or weeks at a time. These women who "keep the home fires burning" are strong, resourceful, and independent. Fishing families are one big family; they take care of each other whether on the water or on land. Fisherman and their families face many obstacles and ever-increasing regulations — however they continue to harvest food and be living examples of faith, grit, and perseverance.
What is the biggest misconception about the commercial fishing industry? Raping and pillaging of the ocean by uneducated men, which couldn't be any further from the truth. Fishermen are scientists who are masters in their field. U.S. fishermen implement more conservation measures than any other fishermen in the world; a fact that should be celebrated and awarded.
What is your favorite seafood dish? Can you share the recipe? Tile fish is my favorite fish (white, flaky heavenly goodness)! Shrimp — every way! The only shrimp I've ever met that I don't like is an imported shrimp! I have an affinity for pecan scallops and hot crab dip! YUM!